VoicePod is another great example of simple technology making your life easier.
VoicePod is a home automation device that speech-enables your home – it listens and talks.
Richard Leslie's insight:
Voice control of your home just got better. This simple technology makes life easier for people with disabilities, or just the convenience of home automation.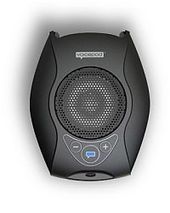 Hands–Free
Each VoicePod quietly monitors a room, waiting for you to say "Hello VoicePod" or another "trigger phrase" to bring it to life. Once activated, VoicePod's embedded software instantly acts upon simple speech commands such as "Lights Off" and "Lock Door". A single VoicePod can provide totally hands-free control for rooms as large as 700 square feet and several VoicePods can be used together to cover large rooms.
Simple Technology
VoicePod recognizes simple commands such as "Turn On the Lights", "Lower Temperature", "Watch Television" and "What is the Temperature?" With a little practice, most people find VoicePod's easy-to-remember speech commands more intuitive, efficient and pleasing than navigating traditional touch screens and remotes. Even technically-challenged users enthusiastically embrace VoicePod's simplicity. And VoicePod can successfully recognize commands spoken by most people without the need for voice training.
Interactive
VoicePod not only listens, but it speaks as well. You can ask VoicePod questions, such as "What is the house status?" or "What is the weather forecast?" and VoicePod instantly retrieves and speaks the requested information. VoicePod can also tell you the time, wake you up in the morning and verbally alert you about specific security concerns, such as open garage doors or unusual temperatures.
Integrated
VoicePod integrates tightly with your home automation system, which allows speech recognition and speaking to occur whenever useful. For example, you can push a button on your remote to instantly invoke VoicePod's TV Channel Selection by Name feature. Or, you can have VoicePod speak when someone opens a door or a sensor indicates an issue with the HVAC system. VoicePod even automatically mutes a room's audio system each time you trigger it, to improve voice recognition performance.
Invisible
On the back of each VoicePod are microphone and audio ports. These ports can be used to connect the VoicePod to a hidden microphone and a room's audio system. When connected this way, the VoicePod device can be concealed under furniture or located in an equipment room. You get complete, hands-free control in the room without any visible equipment on the walls or tables. We call this "invisible control" and it delivers a sensational futuristic experience since you literally converse with your home!
Wireless
VoicePod uses Zigbee™ wireless communications (Wi-Fi coming soon) to communicate with your home automation system. This allows total flexibility when positioning the VoicePod device in a room. You can experiment with different locations until you find the spot where VoicePod works the best. For large rooms, you can install more than one VoicePod. Using our patented technology, all VoicePods automatically coordinate with each other to insure that only the closest VoicePod wakes up when you say "Hello VoicePod".
Secure
VoicePod can proactively tell you about security concerns such as unlocked doors or unusual temperatures in the house. VoicePod can also provide a means for you to call for help without using your hands in the event of an emergency, such as a fall. VoicePod even offers speaker verification which prevents unauthorized users from performing certain functions, such as disarming the security system.
Customizable
VoicePod has been designed as a flexible and highly customizable platform. For example, with our BeSpoke service, we create special voice commands that are custom-tailored to your home and your lifestyle. VoicePod's software, sound library and configuration can also be customized for commercial uses, such as conference room and hotel room automation.
Multi-Lingual
VoicePod is presently available in English and Spanish. Support for several other languages is planned. VoicePod's speaker-independent phonetic speech recognition technology is able to successfully recognize commands spoken by a wide range of people regardless of age, gender, accents or regional dialect.
Mobile
VoicePod Mobile (available Fall 2013) is an iOS app that gives you complete hands-free voice control of your home automation system using your iPhone, iPad or iPod Touch. Just like the VoicePod tabletop device, you can activate VoicePod Mobile on your phone simply by saying "Hello VoicePod". VoicePod mobile's cloud-based architecture allows for unprecedented customization and flexibility. If you ever wished that an app similar to Apple's Siri could control your home automation system, VoicePod Mobile is it!
Wow
VoicePod's clever yet simple design makes it the first practical and cost effective solution to utilize speech control in everyday living. VoicePod is a truly groundbreaking technology that literally gives your home automation system a voice. It's the perfect tool for taking your home automation system to a whole new level and it's available today. With VoicePod installed, you will have more pride in your home automation investment than ever before and your family, friends and neighbors will be amazed.
See on www.houselogix.com
What's your reaction?
0
youtube